The Best Brunch Spot on Newbury St in Boston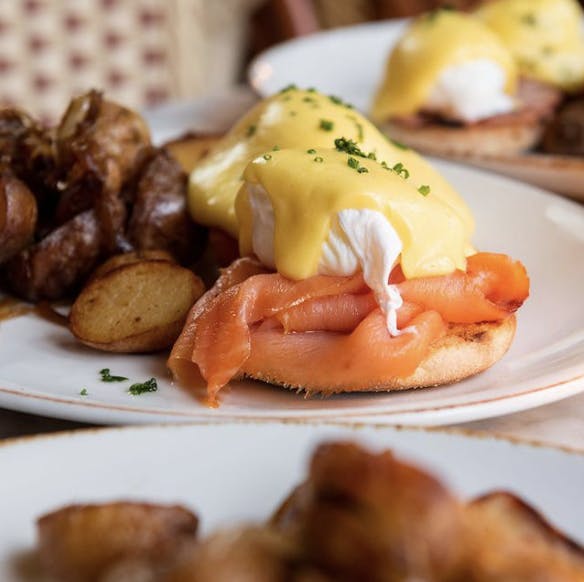 Newbury St is a Boston favorite for weekend brunch. Brunch enthusiasts alike regularly make their way to Newbury every weekend to dine in on brunch staples. If you are on a quest to find the best brunch spot on Newbury st. your search is over. One step through our french doors and you'll see why! Sonsie is recognized by Boston food bloggers alike as one of the best places to go for weekend brunch. As one of the oldest restaurants on Newbury street with 20 + years of serving Boston customers, our reputation speaks for itself.
Bananas Foster French Toast
You can't go wrong with this fun twist on a breakfast favorite! The french toast you know and love is elevated with whipped cream and caramel rum sauce. The light fluffy toast coated in the sweet rum sauce will melt in your mouth and leave your sweet tooth satisfied. Serve with a side of bacon and brunch potatoes to balance out the sweetness of the sauce with salty crunchy goodness!
Smoked Salmon Benedict
Adding smoked salmon to this brunch staple is sure to become your new obsession. A creamy egg poached to perfection topped with hollandaise sauce and smoked salmon served with a side of brunch potatoes. The Tender smoked salmon is delicate against the rich creamy flavor of the poached egg, taking this brunch classic to the next level.
Sonsie Burger
If you are looking for something savory to jump-start your day indulge in the Sonsie Burger. High-quality beef patties prepared to your liking topped with Calabrian Pepper Aioli, aged cheddar cheese, bread & butter pickles, and last but not least smoked bacon. This burger will have your mouth watering before the first bite!
Avocado Toast
The millennial favorite, avocado toast, has quickly become a brunch must-have for food lovers alike. Ours is not your average avocado toast, we've elevated this favorite to make it even more enjoyable. We serve ours on Iggy's 7-grain toast toasted to perfection topped with avocado, red pepper tapenade, feta cheese, sesame, and poached eggs. This blend of creamy and salty flavors with a hint of spice balanced with the crunch of the toast & sesame seeds will make your tastebuds delight at every bite.
Book a Brunch Reservation at Sonsie
Make a stop at Sonsie's for your next weekend brunch and your quest for the best brunch spot on Newbury street will be over! Contact us today to make a reservation and learn more about our brunch menu!