How To Order Oysters When Dining Out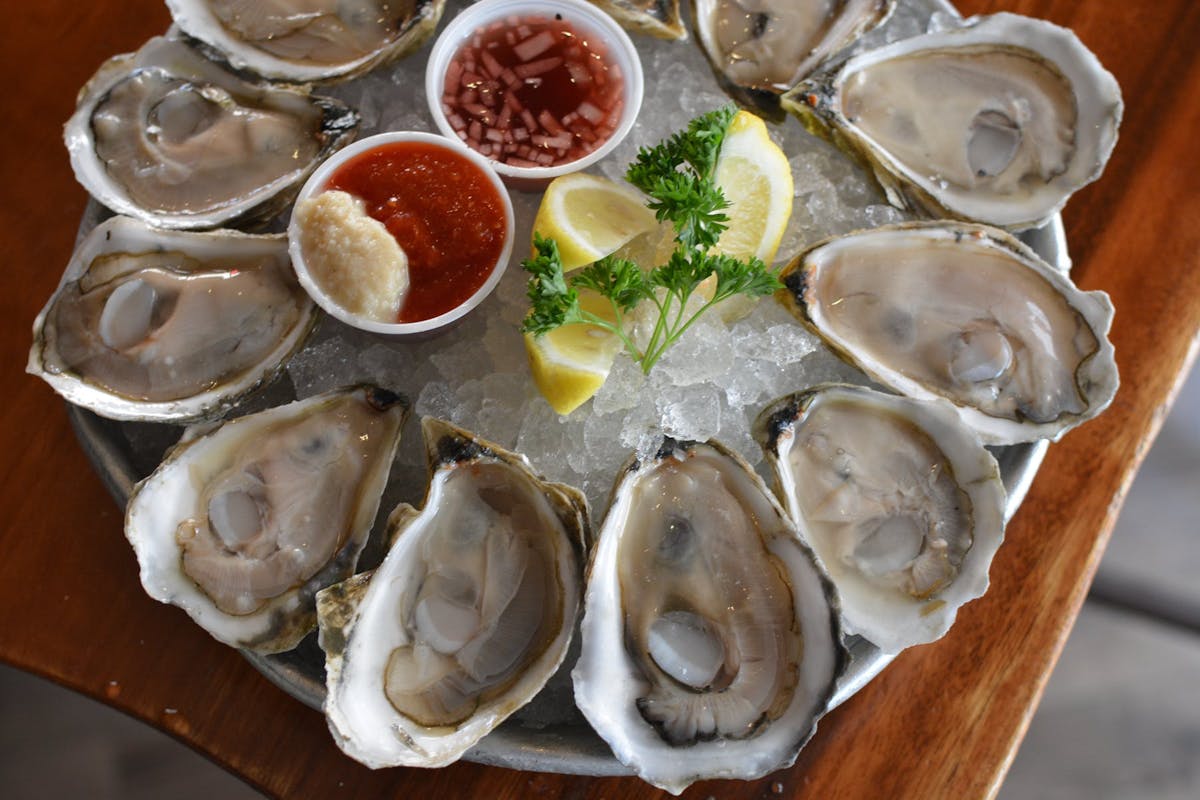 A newly shucked oyster is one of the most delicious and terrifying foods on earth. Oysters have evolved from an unusual delicacy to a more specific menu item in the last 20 years. Days are gone when ordering oysters meant you had to be near the water. Fresh oysters are shipped overnight, allowing even landlocked locations to serve quality oysters from both coasts. However, the recent oyster boom has made dipping your toe into the world of oysters scarier. We're breaking down how to order oysters when dining out.
How to Order Oysters at an Oyster Bar or Restaurant
Oyster bars are great places to try new oysters, compare flavors, and choose your favorite oyster variety. However, ordering too many different varieties of oysters can lead to a bit of a messy experience. The advantage of eating at an oyster bar is that you may order multiple oyster courses without feeling overwhelmed.
Beginners should inquire about more approachable oysters from their server. Begin by ordering four oysters, two from the East Coast and two from the West Coast. When the oysters arrive, the server should be able to tell you which ones are which. The waiter may occasionally provide you with a list of the oysters so that you can keep track of which ones are which.
Alternate between East and West coast oysters to test if you like the saline and minerality of East Coast oysters or the creamy sweetness of West Coast oysters. Order a second round once you've decided what you want. Now, place an order for four oysters from the same region. Get two of each type and try one of each to compare the flavors and subtleties. After you've eaten them all, return to the other oysters and eat them in order of least to favorite, finishing with your favorite oyster!
Ostreophiles, a fancy name for oyster lovers can enjoy the entire menu. Restaurants offer a limited selection of oysters than oyster bars. Typically, there will be one type of oyster or a choice of East and West Coast oysters. As an appetizer, a reasonable rule of thumb is to order three oysters per person or six if the group loves oysters.
How to Eat Oysters
If you order oysters in a restaurant, they will be served half-shelled. To eat an oyster straight from the shell:
Tip it back into your mouth and relish the liquor (the liquid within the shell). The oyster should next be lightly chewed to release even more flavor.
Place the oyster back in the same area on the tray when you've finished eating it.
Make sure the shell is pointing down so you can see how many oysters are left to eat. You can pick it up with a cocktail fork if you don't want to eat the oyster right out of the shell.
Oysters are usually served with lemon, mignonette, spicy sauce, or cocktail sauce in a restaurant. However, eating an oyster "naked" as is, without any accompaniments is the greatest way to fully appreciate its terroir and characteristics. It can be a suffocating experience. A few drops of lemon or mignonette might help to soften the saltiness and add flavor. Don't overdo it, or you'll miss out on the taste of the oyster.
Oysters At Sonsie
Now, that you know how to order oysters when dining out, you can sit back, relax, and savor the genuinely incomparable flavor of raw, fresh oysters as you decide whether you "love" or "hate" this contentious delicacy. Would you like to try oysters? Then come on down to Sonsie in Boston right away; we'll be happy to serve you.